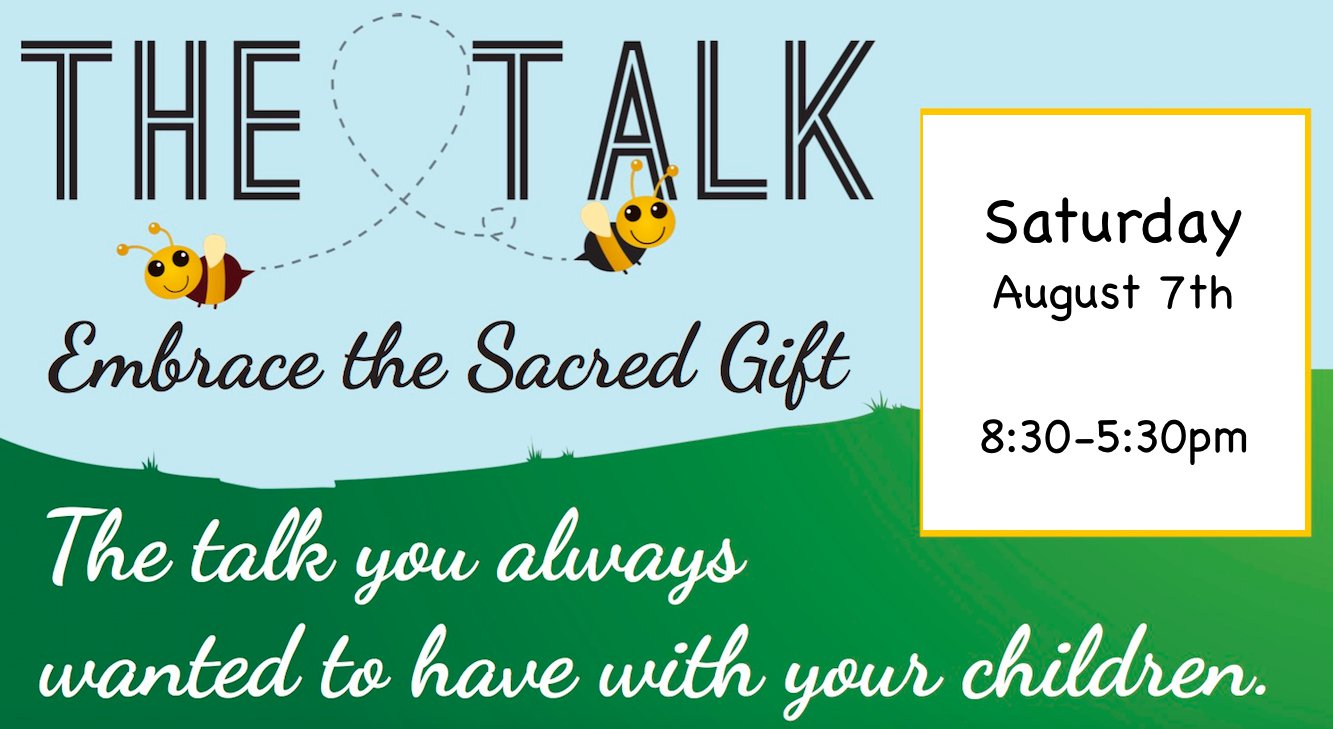 THE TALK:
Embrace the Sacred Gift
August 7th 8:30am-5:30pm
Presented by Ellen Martin, M.A.CE, M.Div.
Talking to our children about the birds and the bees is often times dramatized as awkward, scary, and the last thing on earth a sane parent would ever want to do! The consequence of frightening parents out of talking to their children about sex has been leaving the "sex education" to schools, media (television, movies, magazines), and friends. This lack of conversation has also led many to think that sex is a dirty thing to God.
What if "the talk" didn't have to be scary? And, what if we as Christian parents presented this important discussion in such a way that didn't make sex and sexuality dirty? We invite you to join Ellen Martin in learning how to approach this difficult subject as a discipleship issue for both you and your children.
OBJECTIVES
1. To present the reality that as humans we are sexual beings and this is good, part of God's design for humanity, as found in the creation accounts of Genesis 1 and 2.
2. To establish the relationship between our sexuality and our relationship with God.
3. To persuade parents to teach their children about human sexuality as an element of Christian discipleship.
4. To encourage parents to move from teaching about human sexuality and sex in an isolated event to an ongoing conversation between parent(s) and child(ren) throughout life.
5. To empower parents for this teaching with self-reflection, basic genital anatomy education, conversation starters, trouble-shooting scenarios, basic strategies for answering questions, and resources for further study and support following the event.
METHODS
Teaching — Resources and How-To — Practicing with each other — Q & A
All with the goal of removing shame and moving toward being unashamed of the way God has made us.
SCHEDULE
8:30-12:00 - Parent Session
12:15-12:45 - Lunch (provided)
1:00-3:00 - 5th Grade Breakout Session with one male/one female youth volunteer
3:30-4:00 - Parent/Child Team Building Activities
4:00-5:30 - Parent and Fifth Grade Session
ABOUT ELLEN MARTIN
For the past 15 years, Ellen Martin has had "the talk" with her children. For the past 10 years, she has empowered other parents to do the same in one-on-one settings. Now she offers a workshop experience, "The Talk: Embrace the Sacred Gift." Ellen earned a Masters of Christian Education from Asbury Theological Seminary, Wilmore, Ky., in 2005 and a Masters of Divinity in 2010.
COST
A donation jar will be at the registration table for the event. A donation of $7.50 per adult / $15 per couple, is requested to help pay our speaker and childcare workers. If this is a financial hardship, we invite you to come anyway and participate in this discipleship learning opportunity!
Register below!