Wesley Memorial Kids is the Children's Ministry of Wesley Memorial United Methodist Church.
Here at church, kids (infants through 5th grade) are immersed in a safe, Bible-centered, faith-forming environment that is filled with fun!
Join us each week at 9:45 a.m. for Sunday Fun-day Sunday School!
Ages 3 years - 5th grade.
Children's Ministry Hallway
Loving nursery care for 0-2 provided for the 9:45 a.m. service and 11 a.m. service.
Children's Ministry Hallway
Wednesday Night Kids Games & Gospel (September - May)
6:00 - 7:30 p.m. ~ ages 2-11
Nursery for age 2
Meet in Dining Hall: FREE dinner for kids each week - donations accepted
Plus Bible studies and small groups for adults too!
For the latest updates, join our Wesley Memorial Children's Ministry Facebook group.
What's going on? Check it out below, and sign up to join in!
MAY 17 : THE BIG DROP - Family Event 6PM
REGISTER HERE FOR THE BIG DROP»
MAY 21 : 4th and 5th Grade Laser Tag 12:45PM
JUNE 13-16 : Wild Life Music & Arts Camp (registration is full for 2023)
JUNE 25 : POPSICLES ON THE PLAYGROUND 2-3PM
Everyone come on and join us at the beautiful Wesley Memorial Church playground for some fellowship, fun and popsicles
JULY 16-20 : STELLAR VACATION BIBLE SCHOOL 5:30-8PM, Sunday through Thursday
AUGUST 13 : SUMMER FUN AT SAFARI NATION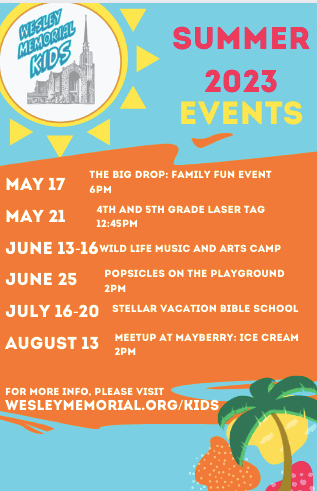 > CLICK GO+ IMAGE BELOW TO SEE BIBLICAL VIDEO LESSONS EACH WEEK <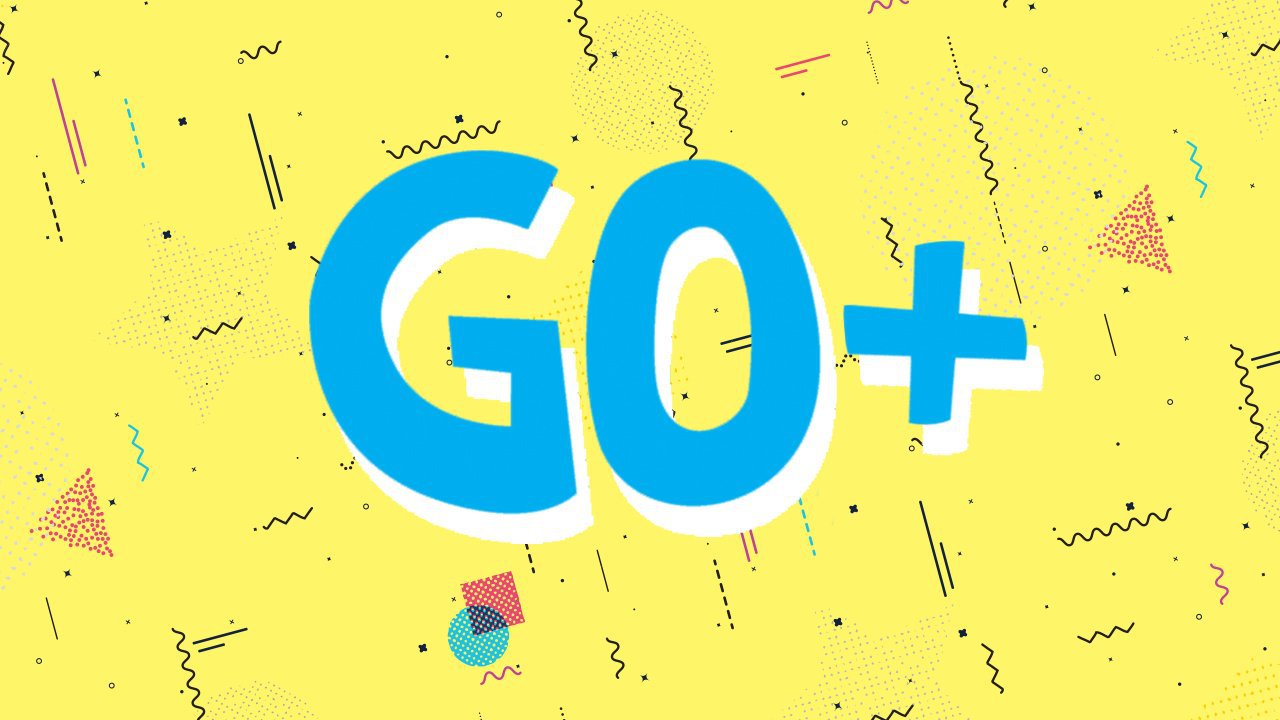 Our Sunday Fun-day curriculum GO! Curriculum for preschool and elementary ages takes children chronologically through the entire Bible every year. Kids are in-sync with the church's liturgical calendar, meaning when adults learn about baptism in church, kids do too! Our teaching strategies get kids out of their seats and involved in the Bible storytelling action.
Our preteen curriculum for 4th and 5th graders is called Deeply Rooted by Four Five Six and emphasizes encountering God, being transformed by God, and becoming a disciple of Christ. It is a proven strategy for helping young people own their own faith.
Suggested Resources
This FREE Kid's Bible app brings the Bible to life for the entire family with a full Bible, videos, images and engaging interactive games.
LECTIO for Families » Download this incredible app today.
Spend time in the Word and in prayer with your kids. All you have to do is press play.
More at-home Faith resources for families
Wesley Memorial Kids, the Children's Ministry of Wesley Memorial United Methodist Church, teaches, loves, and nurtures children and their families as they experience the joy of Christ and share His love with others.
SAFE SANCTUARY CHURCH
We are committed to providing a nurturing, safe environment free from verbal, emotional, physical and sexual abuse. All staff who regularly work with children, whether paid or volunteer, are carefully screened. They are required to attend Safe Sanctuary training, complete an application, have reference checks and background screening.


If you have questions concerning our Wesley Memorial Kids experience or visiting Wesley Memorial United Methodist Church with children, simply click the button below and get in touch with us!