June 4, 2023
Dear Wesley Memorial Family,

Based on interpretation of the informal straw poll results outlined below, the Administrative Team approved moving forward with a formal churchwide vote on disaffiliation. Our request for this formal vote has been sanctioned by District Superintendent Bev Copley with a tentative date of August 27th at 5:30 p.m.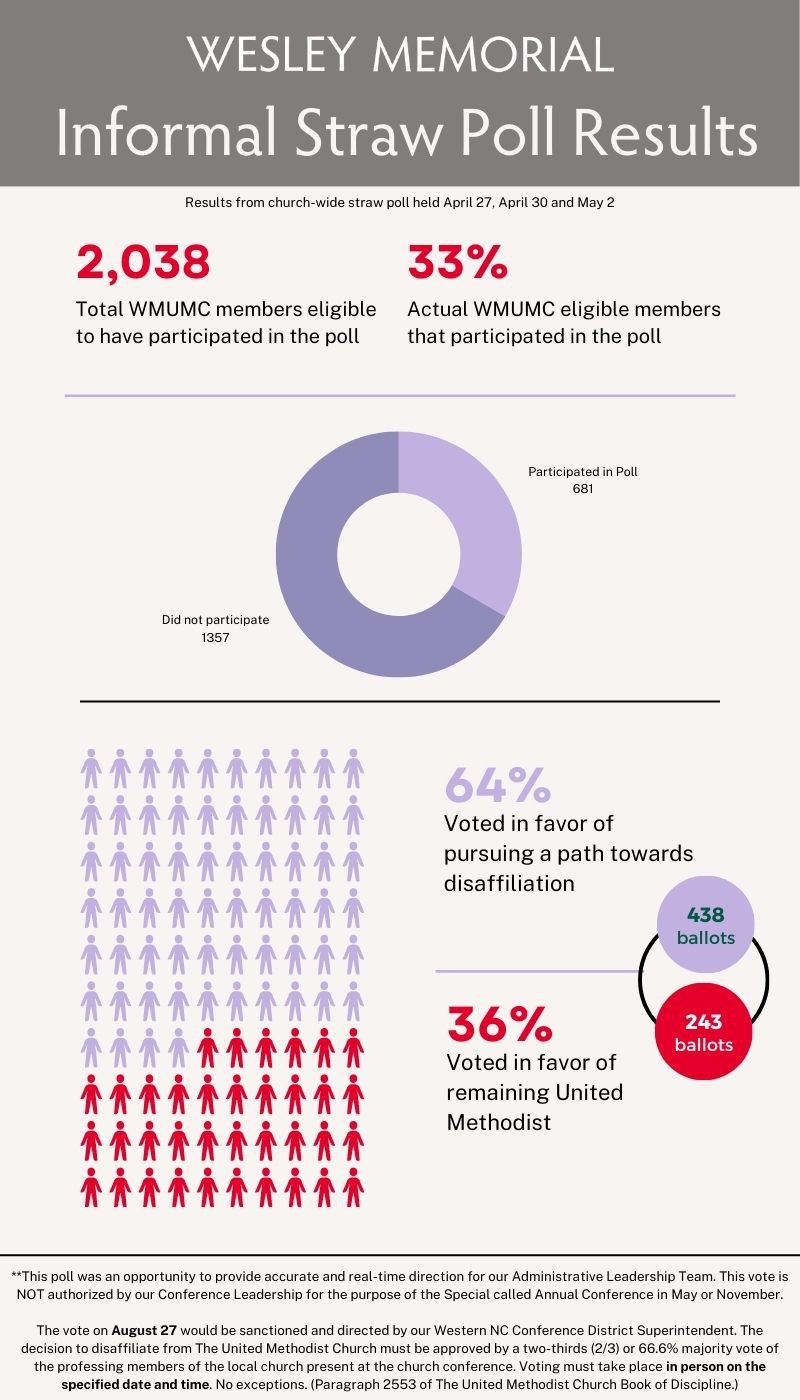 While the straw poll findings were an invaluable exercise, your Wesley Memorial congregation has participated diligently and prayerfully for nearly two years in a variety of discernment activities by way of Question-and-Answer Sessions, Discernment Teamwork, Town Hall Meetings, Prayer Vigils and so much more. As a community, our church is listening to God's voice and collectively charting a path forward. Thank you for continuing to persevere through these very important issues of human sexuality impacting the future direction of Wesley Memorial.
What can we expect leading up to August 27th?
Over the summer, the Administrative Team will gather and submit requested documents and church details required by the Western NC Conference to make August 27th a definitive voting event. In the meantime, please mark your calendars and make every effort to reserve August 27th at 5:30 p.m. to be present in the sanctuary.
District Superintendent Coppley will conduct the formal disaffiliation vote in accordance with the United Methodist Book of Discipline. It requires your attendance at the Called Meeting at 5:30 pm to vote. Only professing members of Wesley Memorial can vote and there are no options for absentee voting. The vote and count will be conducted during the meeting on August 27th. Child care will be provided.
We encourage you to pray for our Church family and implore you to remember that God is with us and remains with us now and in the future. May these summer days provide a time of greater clarity for our congregation.
With Confidence in Christ,
Jeff Patterson, Senior Pastor
Lore Fariss and Dan Smoak, Co-Lay Leaders